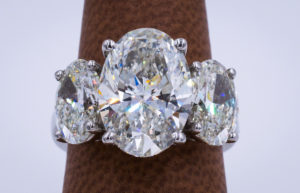 Have you been wondering how to sell an engagement ring in Riverside? Riverside Jewelry Buyer can help. In this article, we cover some of the common questions our clients have had when selling an engagement ring to our estate jewelry buyers.
Please note that while this article was written for people who wish to sell their engagement rings in Riverside, the questions and answers hold true for anyone looking to sell an old engagement ring via any of our estate agents across the United States.
1) What kind of engagement ring brings higher cash offers in Riverside?
There a variety of factors that can impact the cash offer for an engagement ring in Riverside. The important thing to remember is that the value of your engagement ring is based primarily on the quality and carat size of the center diamond. In most cases, the band of the engagement ring will be melted down and sold at scrap prices. The exception to this rule is when your engagement ring has been manufactured by a highly sought-after fine jewelry brand like Tiffany & Co., Harry Winston, or Cartier.
2) Why is the cash offer that I've received so much less than the original retail price of my Riverside engagement ring?
When people sell an engagement ring in Riverside, they are often surprised that they are not receiving a cash offer closer to the retail price of their diamond ring. When selling an old engagement ring in Riverside, it is important to remember that the retail price of your diamond ring was likely at least triple the manufacturing cost. This usually holds true even if you bought your engagement ring online or at advertised "wholesale" prices.
3) Will I get a cash offer close to the appraisal value of my Riverside engagement ring?
In most cases, the answer is no. If your diamond engagement ring came with a "replacement" appraisal or was appraised for insurance purposes in Riverside, the appraisal value is the retail value of your diamond ring. And, as we mentioned previously, the retail value of an engagement ring is usually 3 times more than the manufacturing cost.
However, if prior to selling your engagement ring in Riverside, you take the ring to a jewelry appraiser and ask for a re-sell price estimate, you usually will be able to receive a cash offer that is close to that price, depending on the accuracy of the appraisal.
4) Can I sell an uncertified diamond engagement ring for a good price in Riverside?
Absolutely. You can sell an engagement ring to our Riverside jewelry buyers, regardless of whether or not it has been set with a certified diamond. However, if your engagement ring does include diamond certification papers from a respected gems lab—such as a GIA (Gemological Institute of America) Diamond Grading Report—please be sure to let us know because this will make it much easier for us to evaluate your engagement ring's proper value.
5) How can I learn more about the diamond in my Riverside engagement ring?
It's important to be an informed seller when planning to sell an engagement ring in Riverside. When it comes to learning about your diamond, you want to learn more about the 4Cs (Carat, Cut, Clarity, and Color), which are the four aspects that impact your diamond's resale value. The most important thing to keep in mind is that diamonds which yield the highest prices have the following 4 characteristics: they have a popular cut (like Brilliant); a clarity grade of VSI or better; a color grade of G or better; and a size of 1 carat or more.
6) What can I do to get a better price when selling my engagement ring in Riverside?
Riverside Jewelry Buyer usually can get you more cash for your engagement ring, if you can include other bridal jewelry with your diamond ring. For example, a matching wedding band or bridal earrings.

One final note. We encourage every client to make a very careful decision when choosing whether to sell a diamond engagement ring in Riverside. You want to be sure that you when you sell your engagement ring that it's the right decision and the best decision for you.